WDCC The Haunted Mansion Beware of Hitchhiking Ghosts NLE# 1313 Artist Signed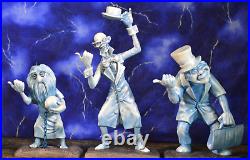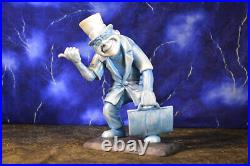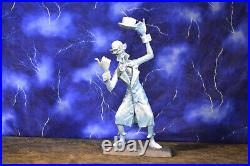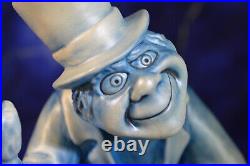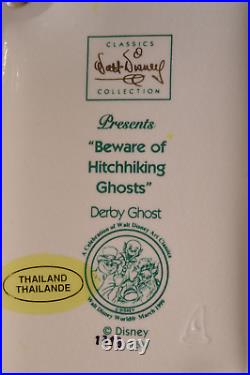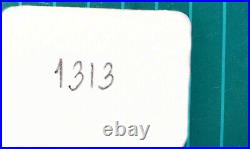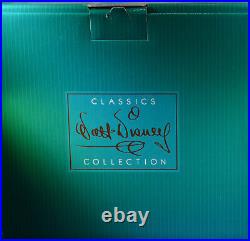 Character: Hitchhiking Ghosts (Phineas Queeg, Gus Gracey and Ezra Dobbins) Title: Beware of Hitchhiking Ghosts Size: N/A Item Number: 11K-41418-0 (Old)/1028800 (Current) Sculptor: Patrick Romandy-Simmons Plussing: Special Commemorative Backstamp: Commemorates first WDAC Convention. Particulars: COA Signed by Sculptor Patrick Romandy-Simmons and. Marc Davis was a prominent artist and animator for Walt Disney Studios. He was one of Disney's Nine Old Men, the famed core animators of Walt Disney's animation studio.
Available at First Collector's Convention for Walt Disney Art Classics, 03/19/99-03/21/99 at Walt Disney World in Orlando, FL. The three Ghosts were packaged as a matched, numbered set in honor of the attraction's 30th anniversary. Numbered Limited Edition Number 1313 of 1,500. Welcome, foolish mortals, to our offer of The Haunted Mansion "Hitchhiking ghosts" The original names for the three hitchhiking ghosts are The Traveler, The Skeleton and The Prisoner. In the beginning, they had no "real" names. Although no one knows how it began, fans and Cast members began to give the ghosts hitchhikers new names. The Traveler is now known by Phineas, while The Skeleton is now known under Ezra and The Prisoner as Gus. Ezra is the tallest of the group. He is covered in a trench coat and a bowler cap, which he takes off while hitchhiking. He has a bony face with his eyes bugging out and has a very slim, skeletal body. Gus carries a ball, chain and a beard that goes down to his knees. Phineas, the Ghost who carries the luggage is also wearing a trench coat and a top hat.
Of the 999 Ghosts in the Haunted Mansion, the most popular are Phineas, Ezra and Gus, the Hitchhiking Ghosts! Hackenbush was a con artist and snake oil salesman, claiming to be a doctor. However, his so-called miracle "cures" transformed the tongues of their users into ones resembling a snake's tongue. Enraged, an angry mob formed and chased Phineas in his wagon off of a cliff, killing him. Phineas' ghost traveled to the mansion, where he tried to use his charm and deceit to fool some of the other ghosts into using his product.
However, Madame Leota reminded everyone that they were already dead, and the ghosts of the mansion drove Phineas out into the graveyard, where he met the only two ghosts to remain friendly: Gus and Ezra. Gus was a shepherd who was kept awake constantly by the bleating and noises of the sheep he watched over. One day, after not being able to get any rest, he became angry and lashed out at the sheep, awakening an angry ram.
The ram chased him to Port Royal, where he accidentally stumbled in on a wedding and knocked over the wealthy and short-tempered groom, who had him arrested and thrown into prison. As he sat in prison, Port Royal was suddenly attacked by pirates. In the commotion, he was able to escape and board an abandoned pirate dingy, which he rowed out to sea. However, his ball and chain fell overboard, pulling him off the dingy and into the crushing depths of the sea, where he drowned. His ghost made its way to the mansion, where he was welcomed. However, even in death he could get no sleep, as the various parties at the mansion kept him awake. So Gus voluntarily left the mansion to linger just outside the graveyard, where he met Phineas and Ezra and was able to get some peace and quiet. Ezra Gasser was a prankster and a trickster since his childhood, often pulling crazy pranks on those he encountered. One day, he was visited by a mysterious salesman, who introduced him to the Chinese finger trap. Ezra tried the new novelty out, but was unable to free himself.
He found this extremely humorous, and began laughing so long and so hard that he soon suffocated and died. His ghost made its way to the mansion, still playing pranks and tricks. These angered the other ghosts, so Ezra left to the graveyard and met Phineas and Gus.
This figurine would make a wonderful addition to any Disney figurine collection! This sculpture was created through the collaborative efforts of the animators and other artists of The Walt Disney Studios, using the same principles applied to classic Disney animation. In concept and execution, this is an authentic Disney three-dimensional representation of the original animated character and film scene, capturing the timeless spirit and beauty of Walt Disney's classic films in every detail. T his item is in new condition and includes the box as well as the Certificate of Authenticity. The items we sell come from a clean, smoke free environment.
This item is in the category "Collectibles\Disneyana\Contemporary (1968-Now)\Figurines\WDCC". The seller is "mgeilow" and is located in this country: US. This item can be shipped to United States, Canada.
Brand: Disney
Convention/Event: First WDAC Convention
Franchise: WDCC
Country/Region of Manufacture: Thailand
Modified Item: No