Black Diamond? Edition Peter Pan VHS/VCR 1990 Walt Disney's Classic Bobby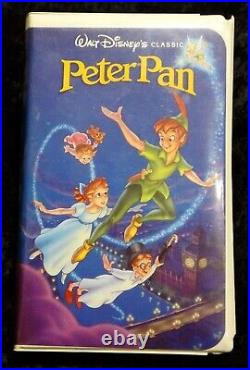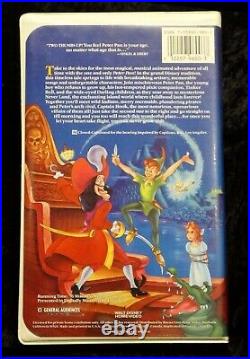 Disney's Peter Pan G rated. Runtime: 1 Hours 16 Mins. Slight damage to corner of case. Check Pictures For More Info. Peter Pan has a special place in the realm of classic animated Disney films: it instills an element of childlike wonder. The 1953 version of James M. Barrie's story is colorfully told and keeps on the straight and narrow of the book. Barrie's wondrous focus on child's play is the key to its longevity: kids who don't grow up, shadows that run away from their owners, pirates, a fairy, and the magic ability to fly. In short, you can't help wishing the adventure would happen to you. Fueled by a few memorable songs (the stunner being "You Can Fly") and the strong impression of the pixie fairy Tinkerbell and the goofy Captain Hook, Disney's version of this story neither supplants nor lessens the Broadway version with Mary Martin that was produced for television the same decade.
Unlike some classics, Peter Pan never ages along the way. About Our CD's, DVD's, VHS's And Games. From rare hard to find items to popular current titles, we have it all. We have thousands of CD's and DVD's in stock. Please check out our other sales and we are sure you will find tons of items you love at great prices!
The vhs are guaranteed to play perfectly! All Vhs have been inspected for quality and are in working condition. We will respond to you within 24 hours and do our best to help you out! We try to reply within 24 hours (even on weekends).